Cloud computing can automate every business task. It depends on which cloud service model you select for your firm. Here's a look at all the types.
Cloud computing is nothing new to business owners. Instead, it turned out to be a powerful tool for them. Without a doubt, it is the future of computing. It has everything, from automating processes to reducing mundane tasks. You might know all the advantages, but each cloud service model has unique characteristics. And to know each type, let's dive in.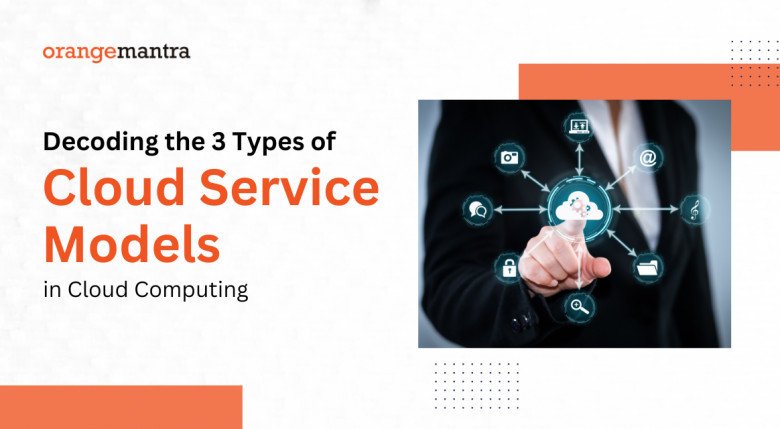 An overview of the cloud service model
Cloud computing offers automation as its greatest benefit. It helps to remove overheads, reduce mundane tasks, and more. AWS Cloud computing offers pay-per-use services to its users. It is convenient and offers on-demand network access to users. Users remain in a configurable computing resource-sharing pool with less control and interaction.
Type of cloud service model
There are three types of cloud service models for users to choose from. And all these give you a different level of control, flexibility, and management.
Here is the type of cloud service model present for users.
SaaS
So when talking about the cloud service model, we move onto first on the row. It is a ready-to-use application software cloud hosting provider. Users can pay monthly or annually. And manages the application and the delivery infrastructure. Such as servers, storage, networking, middleware, software, etc. Customers can add more users and data storage on demand for a fee.
Some businesses, such as Salesforce, HubSpot, Trello, and Slack, use SaaS solutions to meet their needs.
Benefits of SaaS
It handles everything from maintaining the server, operating user access, crucial security, storing, etc.
Other benefits of SaaS include:
· Minimal risk: SaaS products offer a free trial for the users to try the software to fulfill their needs.
· Anytime productivity: Users can work with SaaS apps on any device with a browser and an internet connection.
· Easy scalability: It offers quite easier scalability with expanding and fewer availabilities. Customers can purchase more data storage for a nominal charge.
IaaS
IaaS provides on-demand access to computing infrastructure. Such as servers, storage capacity, and networking resources. Customers can provision, configure, and use on-premises hardware. So this cloud service model manages and maintains the hardware and computing resources. IaaS users access the hardware through an internet connection. And pay for it with a subscription.
Every major cloud services provider like AWS cloud computing service, Google Cloud, IBM Cloud, and Microsoft Azure development, began with IaaS.
Benefits of IaaS
IaaS lets customers avoid the up-front expense. And the overhead of purchasing and maintaining their own on-premises data center.
Other benefits of IaaS include:
· Higher availability: A firm can create redundant servers with IaaS. Or make them in other geographies to ensure availability during local power outages or disasters.
· Improved performance: IaaS users can locate apps and services nearby to maximize performance. Because IaaS providers typically operate data centers in multiple geographies.
· Comprehensive security: It offers high security on-site at data centers, encryption, and organizations. It offers advanced protection if it hosted the cloud infrastructure in-house.
· Faster access: IaaS customers can take advantage of these technologies much earlier than they can implement them on-premises.
PaaS
PaaS provides cloud hosting providers for developing, running, and managing applications. And this cloud service model manages and maintains the hardware and software. Such as servers, OS, frameworks, development tools, etc. Users access the PaaS through a Graphical User Interface(GUI).
Some tech giants use PaaS solutions like Google App Engine, Microsoft Windows Azure, and Red Hat OpenShift on IBM Cloud.
Benefits of PaaS
It allows you to build, test, deploy, update and scale applications quickly and cost-effectively on-premises platform.
Other benefits of PaaS include:
· Faster deployment: PaaS offers a development team to wind up the designing, development, and testing quickly.
· Simplified collaboration: PaaS offers a shared software development environment. It gives developers and operations teams access to all the tools from anywhere.
· Scalable approach: Organisations can purchase additional capacity for building, testing, staging, etc.
· Less management: PaaS offloads infrastructure management, patches, updates, and other administrative tasks to the cloud service provider.
Conclusion: Cloud computing has the potential to serve the industries of all verticals. But it depends on which service model you choose for your enterprise. For more consideration, consult cloud technology solutions for more projects.